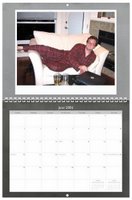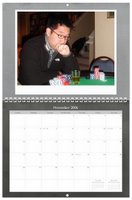 New for 2006! Ring in the New Year with the Men of 1355 Valencia Apartment 6 Calendar, available now by way of the Kodak EasyShare Gallery, formerly known much more simply as Ofoto.
To get this exciting new twelve-month wall calendar, just follow these ten simple steps:
Follow this link to the shared photo album for the Men of 1355 Valencia Apartment 6 Calendar.
Sign in to your Kodak EasyShare Gallery (aka Ofoto) account if you have one already, or register for a new account.
Click on Exit Slideshow.
Create a new calendar by navigating to Shop > Calendars and then clicking on the Create a Calendar link.
Select January 2006 as your start month, and choose a page design for your calendar—the recommended design template is Slate Gray—and click on the Next button.
In the pop-up window asking whether you would like to Autofill the calendar, click on the Autofill button.
Select the Men of 1355 Valencia Apartment 6 album, check the Import photo titles as captions checkbox, and select the 1-up layout. Click Next to continue.
Click Order to finalize the calendar, and then inspect the calendar preview to make sure everything looks fine.
Click on the Add to Cart button, and proceed with the checkout process.
Sit back for 5-7 business days, and then enjoy!
That's it. As you can see, Kodak EasyShare Gallery makes it easy.
Click on the pics above for a sneak peek at Mister June and Mister November.